7 Ideas For Small Backyards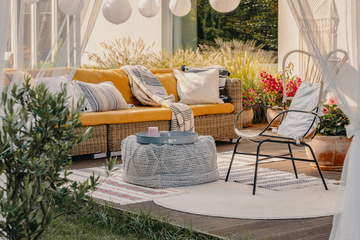 Ideas For Small Backyards
If you ask us, there's nothing better than a great backyard. A backyard is a place for barbecues, for playing catch with the kids, or simply for soaking up the sun on a warm day. Yes, a backyard is your own little slice of heaven.
Of course, even the smallest yard can become a homeowner's oasis with the right tools and the right landscape design. If you're looking for inspiration that will help you make the most of your backyard space, here are a few ideas you won't want to miss.
What Makes a Great Backyard Space (Even If It's a Small Yard)? 
Use Mirrors to Trick the Eye
Do you have a small backyard, but want to feel like it extends for acres? There's an old design trick you can use to make any room or space seem bigger: Mirrors.
Choose a mirror that suits your outdoor decor — rustic, modern, nautical, whatever makes you feel at home — and you will get a beautiful piece of wall decor that also makes the yard seem bigger. Simply attach a mirror to the exterior wall of your home. The reflection will trick your eye (and the eye of any visitors) and give an impression of greater space.
Design Your Own Hanging Gardens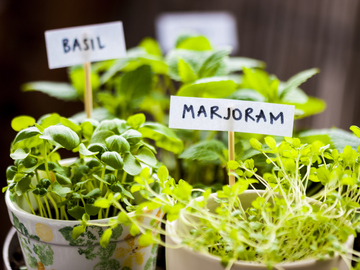 Even if you do not have a lot of floor space in your yard, you can always add more to the space by decorating "up." Set up a vertical garden and let your plants climb the walls of your home or fence.
Attach plants from an awning or trellis for your own "hanging gardens." You can even hang hammock chairs to give your hanging gardens some unique seating.
Vertical plants can help draw the eye upward, which also gives the viewer an illusion of greater space. This can be great for making your yard seem bigger and fuller — and these tall gardens make for a beautiful place to relax with a book in the afternoon.
Choose Slim Seating
Having a small yard does not mean you have to miss out on entertaining. You just have to seat your guests on furniture with a lower profile. Opt for minimalist patio furniture such as benches with no backs or thin metal chairs instead of large patio pieces. This will give your guests space to sit without crowding the yard.
Backyard Bar For Small Yards: Bring The Bar To You
For many people, the bar is a fixture of backyard entertainment. It's where they mix drinks, layout hors d'oeuvres, or even gather to chat with their friends. But what do you do when there isn't enough room for a built-in in your yard? Get a bar cart.
A bar cart is a great way to maximize your yard's party potential without sacrificing space. You can load up the cart with your favorite drinks, snacks, or anything else your guests enjoy, roll it out for a while, and roll it away when it is not in use. It's a quick and easy way to transform your yard from a small seating area to a LITERAL party on wheels.
Plant a Container Garden
Portability is not just for margaritas and mixed nuts; it is also essential for gardening in a small backyard. If you don't have enough soil for a full garden, consider making a garden from potted plants.
Container gardens can be a great way to add versatility to a backyard of any size. You can fill your garden with a variety of plants, adding color and height without cluttering the yard. You can even move the plants around to create privacy or separate spaces for different occasions.
Portable Ideas For Small Backyard Spaces
So far, we have discussed two ways that portability can benefit a small backyard. But why stop at two? If your yard is on the smaller side, you'll find that portability will quickly become your new best friend. When everything in your yard is portable, your yard's possibilities for fun are basically endless.
Let's say that you have portable patio furniture that's easy to move and stow away. You can have it out in your yard for dining al fresco, outdoor crafts with the kids, or even relaxing on your own in the sun. But when you need a little extra space (maybe for a game of fetch with the family dog), you can easily slip the furniture away and have plenty of room to run.
Embracing the "portable mindset" can help you transform your yard into the ideal space for kids to play, adults to relax, and everyone to enjoy their time outside. Don't be afraid to go portable.
Get Creative with Storage
Finally, one of the most important elements in any small backyard is effective and creative storage. Where do you put all the things you need in your backyard — your gardening tools, kids' or pets' toys, or lawn games? If you don't have ample storage space in your yard, it's time to get creative.
Look for stylish and simple ways to store your essentials in the yard that also serve some other purpose. For example, a bench with storage space under the seat can be a great way to have some permanent seating AND store all your things! Multipurpose items like this can help you save space and keep your yard clean so you can make the most of the space.
But of course, the most important thing about your backyard isn't the furniture you use to decorate the space — it's the memories you make while you're there! A great backyard is the kind of place where neighbors form lasting bonds, where families celebrate big moments, and where adults think fondly of their childhoods. And when you have one of the beautiful homes from Little Lane Carson City, you are sure to get a great backyard.
Contact our team to learn more about Little Lane Carson City today. We have several model homes available to tour, and we'd be more than happy to help you and your loved ones find you forever home.
https://littlelanecarson.bateshomes.com/wp-content/uploads/2021/11/GettyImages-1143981417.jpeg
240
360
Sally Galli
https://littlelanecarson.bateshomes.com/wp-content/uploads/2021/01/Little-Lane-Logo-Color-28129.png
Sally Galli
2021-11-03 03:25:56
2023-03-24 07:27:25
7 Ideas For Small Backyards